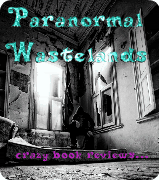 So because Tim O'Rourke is the awesome man that he is, and because he loves his fans so VERY much, he has brought not ONE, but TWO lucky winners a little present.
That's right two wastelanders will get a Kiera Hudson Series Prize Pack!
What exactly is that?
Each winner will recieve:
A signed Vampire Shift bookmark
Vampire Shift (paperback)
How awesome is that!!!!!
All you have to do is fill out the Rafflecopter form below to enter. This giveaway is open internationally, and to followers of Paranormal Wastelands. So if your not already lost in the wastelands...join us!
I hear it's fun in here and all you have to do is follow on Google Friend Connect:)
But one last thing...
It just so happens that today is not only the release of Vampire Wake, but also Tim O'Rourke's wedding anniversary!!
Looks like you managed to keep her yet another year, and we wish you luck for a lifetime of years to come!